This is a small business – a very small one!
However, that doesn't mean that we can ignore or excuse our impact on the world around us.
As such, we are implementing the following policies to help increase the positive and reduce the negative impact we have on the world. We are doing so because we feel it's the right thing to do. When you shop with us, you can feel comfortable knowing that you are doing so responsibly.
Social Responsibility and Action
We believe in acting both locally and globally.
Starting now, we are pledging 5% of our net proceeds to charity with plans to increase that percentage to 7% by end of year 2022 through more effective sourcing and streamlining our business practices, with plans to increase each year with an eventual end goal of 20%.
Our local charity of choice is Desert Tails Shelter, a no-kill, donation-funded, dog rescue.
We are currently sourcing fair trade products to offer in addition to our existing products and ways to partner with other organizations.
Are you a teacher or school looking to purchase kalimbas for your students? Contact us for reduced rates, free educational materials, and free consultations on purchases and teaching.
We are happy to promote other small, music- and kalimba-related businesses. Reach out if you think we should work together!
Environmental Impact and Action
While dealing with global trade, it is impossible to eliminate all of our impact. However, we are trying to make positive changes where we can.
Transparency and Accountability
We have added a website carbon badge, visible at the bottom of each page, to see how we are doing with our digital footprint. Spoiler alert: not great – yet. But we're researching how to streamline our site to improve this. (Badge courtesy of Whole Grain Digital.)
Shipping is likely the biggest contributor to carbon emissions. We are currently investigating how to more accurately measure our impact in this area and how we can work together to offset the associated carbon.
Actions
Every kalimba sold = one tree planted through, aptly enough, a partnership with One Tree Planted. Donations will be made and updated quarterly. As our company grows, we will seek out additional measures to reduce our carbon footprint.
Choosing the least harmful shipment method when possible and practical. (For overseas shipping, this is done by cargo, which is slower but contributes far less CO2 than air fright.)
We pay extra to our local utility company for a 100% solar offset of our energy usage. (More info on this from SRP.)
We use a green hosting provider for our website.
Pledging to offset our website and shipping carbon emissions (and have already prepaid our estimated website usage through 2025).
We work where we live, so we have zero commute.
Thoughts? We are open to feedback and suggestions on how we can improve these policies and streamline our services.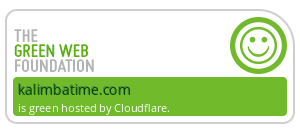 First donation to One Tree Planted
---
Looking for a good starter kalimba? If it's within your budget, we recommend the Gecko K17MBR. You can buy it
here
. We only recommend products from brands we know and trust. Sometimes, referrals to outside resources result in a commission, which is applied to the operation of this website and the free educational resources we provide. Please check out our
commitment to social and environmental responsibility.